Articles
Research

Published on: 26 January 2017

Roundtable discussion

Editorial

Published on: 15 December 2016

Debate

Published on: 18 October 2016

Research

Published on: 11 October 2016
Review

Published on: 30 June 2016

Research

Research

Published on: 14 April 2016

Research

Research

Published on: 12 May 2016
Society affiliations
Hepatology, Medicine and Policy is affiliated with the World Hepatitis Alliance, a global network of hepatitis patient organisations; and with the International Network on Hepatitis in Substance Users (INHSU), an international organization dedicated to scientific knowledge exchange, knowledge translation, and advocacy focused on hepatitis C prevention and care among people who use drugs.
Aims and scope
Hepatology, Medicine and Policy considers articles on the prevention and management of viral and non-viral hepatitis and other liver disorders, including articles on the public health, policy and biomedical dimensions of these conditions.
Blog
View feed
Published on: 20 February 2017

Published on: 03 February 2017
Call for papers: Viral hepatitis elimination
We are pleased to announce that Hepatology, Medicine and Policy (HMAP) is currently accepting manuscript submissions to be considered for publication for a thematic series on viral hepatitis elimination. Guest edited by Dr Martin Tagle (Anglo Americana Clinic, Peru) and Dr Marcelo Silva (Austral University Hospital, Argentina), this series aims to describe the situation regarding viral hepatitis B and C in Latin America. The series is interested in research and review submissions, written by leaders in the field. We are also interested in patient perspectives on hepatitis. Potential topics include, but are not limited to:
Health policy
Health systems
Economics
Epidemiology
Health services,
Implementation research and delivery science
Ethics and human rights
Social mediators of health outcomes
Basic and clinical science
This series will be launched at the World Hepatitis Summit (Brazil, Nov 2017). Pre-submission enquiries, can be sent directly to the martintagle@gmail.com with Jeffrey.Lazarus@regionh.dk in cc.
About the Editor
Spotlight On ...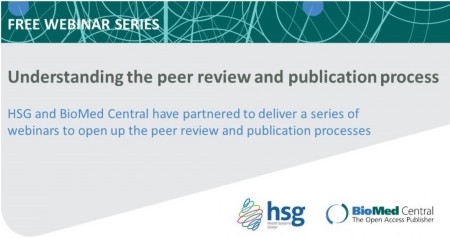 Introducing a New Webinar Series by BioMed Central and HSG: Understanding the Peer Review and Publication Processes
Publishing is an important part of sharing the outcomes of research, but the publication process and requirements may feel like a closed book. BMC Health Services Research and Health Systems Global have partnered to deliver a series of webinars aimed at researchers at a variety of career stages.